Detroit Office Trailers & Portable Storage Containers
Buying & renting mobile offices and steel storage containers has never been simpler.
Or Less Costly.
Our affiliates for Detroit office trailers & portable storage containers are your temporary office, storage solutions, and portable building deal finder, and the best thing that you can do for your business.

Our price quote solutions are available 24/7 to help your company meet the demands of temporary office space and protecting your property. Our complete suite of solutions includes mobile offices and storage units and removes space problems for your business. At Used Construction Trailers we help you to get the best price by matching your needs up with suppliers in Detroit that offer on-site delivery and low-cost financing options. With so many trusted companies like Modspace, Acton Mobile, Pac-Van, and Willscot, there are many options and office trailer brands to shop from. Our goal is to help you get to find what you need from one source that lets you compare the prices from up to five local companies.
Sometimes businesses need short-term office space. You need to be able to operate on-site and have all the tools of a permanent structure available to you. From portable office buildings to mobile classrooms, we are here to help across a wide array of mobile office needs. We connect you with a few of the best office trailer dealers in Detroit, MI. Compare Prices for Free!
We'll help you save on office trailers and steel shipping containers!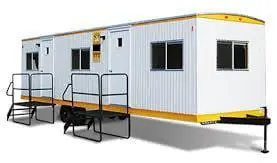 Dealers Typically Located within 10 miles of these Detroit zip codes: 48126, 48201, 48202, 48203, 48204, 48205, 48206, 48207, 48208, 48209, 48210, 48211, 48212, 48213, 48214, 48215, 48216, 48217
The Best Prices on Mobile Offices in Detroit For Rent or For Sale
The cost for office trailers is contingent upon a variety of factors, but for example, through our service, you may be able to rent a used constructor trailer in Detroit for about $139 per month. Of course, for the most accurate quote we need to know a little more about you, and your needs.

Office Trailer Sizes and Space Calculator:
# Occupants
Estimated Sq. Ft Needed
Office Trailer Size
1-2
195 Square Feet
8′ x 20′
2-3
285 Square Feet
8′ x 28′
3-5
410 Square Feet
10′ x 44′
4-6
500 Square Feet
10′ x 44′
5-7
650 Square Feet
12′ x 56′
7 to 10
800 – 1,250 Sq. Ft
24′ x 56′
11 +
1,400 Sq. Ft. +
Rent, Lease, or Purchase:
Office Trailers

Portable Storage Units

Temporary Buildings

Portable Classrooms

Used Portable Buildings

Modular Buildings

If you prefer not to use our quote engine we recommend you drive over to the trusted dealer, American Mobile Office & Container, and check out their inventory at:
13930 Brainbridge Ave
Warren, MI 48089
UCT Construction Trailers
Detroit, Michigan 48207